Hourly Forecast
Using real-time solar wind data from Nasa's ACE spacecraft, matched with data obtained from a network of magnetometers located worldwide, we are able to forecast, with reasonable accuracy, how the Northern Lights will behave up to one hour in advance. The image shows estimated aurora activity now.
Image should be used as a guide only, it is based on predicted geomagnetic activity. Northern Lights may or may not be visible.
Click here for Non Flash version
Right now, the aurora is predicted to be:
Kp 2.00
In 0 hour and
15

minutes, the aurora is predicted to be

kp 4.00


In 0 hour and

29

minutes, the aurora is predicted to be

kp 3.67


In 0 hour and

43

minutes, the aurora is predicted to be

kp 3.33



System status:
All Good.
---
Daily Forecast
While all the other forecasts are using satellite and scientific data. The Daily aurora forecast is predicted at 5pm Finnish time (2pm Universal Time) by a person. (The computer models and predictions are great, but using real life experience and pattern recognition is something they can't do).
21st October

Tonight's estimated aurora level:


Level 3 – Medium

Forecast:
Auroral activity should be at medium levels. Weather permitting, aurora displays may be visible overhead or on the horizon in Mosjøen (Norway), Oulu (Finland), Luleå (Sweden) and Reykjavík (Iceland).

Comments:
We are feeling the affects from a CH HSS. It's the fastest CH HSS we've had in quite a while, it produced some great aurora activity last night, unfortunately most of Europe was plagued with clouds so most of us missed it. But it is still looking quite interesting tonight and could quite easily produce Kp4 levels.
---
3 Day Forecast

Courtesy of NOAA.
22nd – 24th October

The geomagnetic field is expected to be at unsettled to active conditions, with a slight chance for a minor storm period, for days one through 3 (22-24 Oct) as high speed stream effects persist.
Predicted kp numbers for the next 3 days:
Time now in UTC (Universal Time) is: 15:23 22/10/14
            Oct 22     Oct 23     Oct 24
 
00-03UT        4          4          4     
 
03-06UT        3          3          3     
 
06-09UT        3          2          3     
 
09-12UT        2          3          3     
 
12-15UT        3          3          3     
 
15-18UT        3          3          3     
 
18-21UT        2          3          3     
 
21-00UT        3          3          3     
 

Why do we use UTC?
UTC (Universal Time) is used in science, weather, aviation, military and many other fields. It eliminates confusion with multiple time zones and daylight saving. For more information on UTC click here
---
Solar Wind Gauges
These gauges are our own system, they are updated every 60 seconds directly from Nasa's ACE spacecraft data. The data you see here is what the ACE spacecraft monitored only moments ago. These 3 components are the most important components of the solar wind (when it comes to Aurora Borealis). Note the Bz gauge works backwards. You can view all the components of the solar wind on our other solar wind tool here.
Gauges are updated every minute live (without the need for page refresh).
How to interpret the gauge activity

Aurora Ovation Oval
(short term prediction)
ACE Real Time Solar Wind MAG & SWEPAM data
ACE Real Time Solar Wind EPAM (Low Energy Electrons & Protons) data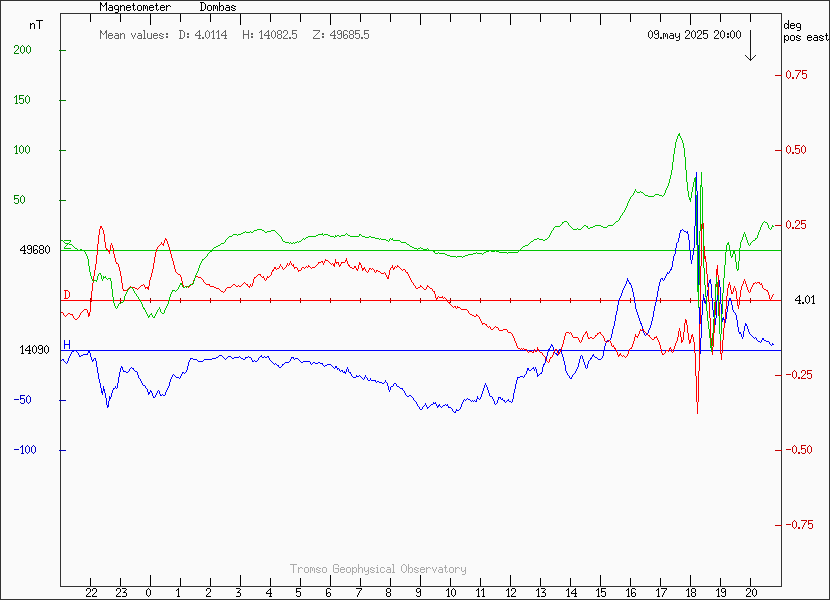 Magnetometer located in Dombås, Norway 62°N
---
What Kp strength do you need to view Northern Lights where you are?
The Northern Lights are most often seen in the Lapland regions of Finland, Sweden and Norway along with Iceland and Greenland. But during high activity, auroras are often visible from much lower latitudes, often including Scotland, Ireland, Denmark, Estonia and more. This table allows you to see what Kp level is typically required see aurora borealis where you are in the event of high geomagnetic activity.
If you are having difficulty seeing northern lights from your location, you are always welcome to visit us and come out aurora chasing personally with us, in the most northern town in the EU! Visit tours.aurora-service.eu for more info.